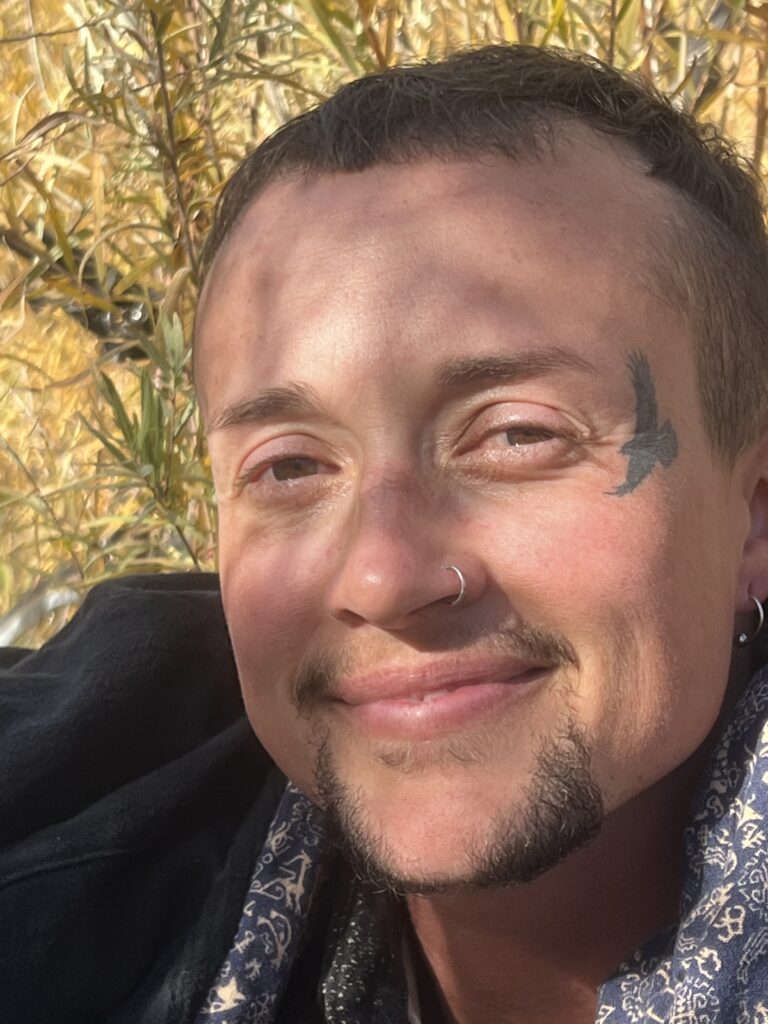 "Journeying can incorporate our relations to nature, intuitive and sensory sensitivities, and personal, familial, and educational navigation of trauma healing. I offer myself to the natural world as a conduit and to individuals as a compassionate reflector because I believe in our collective (re)generative power."
– Jai Reese
WELCOME
I want to be clear on a few things. I am not a licensed therapist. I want to support you safely and sacredly engaging Cannabis or Psilocybin Medicines on life-giving land or in a clean room of your home. I do not see Medicines as magic pills but rather as beings who communicate potential and can sometimes invite ongoing relationship. I support you surrendering to Medicine's wisdoms and shares. I lean into our bodies, the earth, and Medicines as experience-based knowledge channels. Medicines were here before colonized and dominated lands and minds. I think science and psychology are ways of perceiving reality and they cannot capture the whole. I will prioritize your well being. You are welcome to email me at jai@journeywithjai.com.
"My journey was an amazing one! I did an online journey with Jai and it went really well. Jai is kind and gentle and made me feel at ease and comfortable throughout the whole journey. I enjoyed the chakra meditation he took me through. I revisited my chakras while in the journey, and had some great awarenesses. I had moments of great peace and some tears were shed. I would recommend this type of journey to anyone interested, and Jai is your person to journey with. I plan on taking another journey with Jai in the future." V.R.
A BIT ABOUT JOURNEYING…
I am happy you are here! I am based out of what is colonized as Denver, CO. I hold Medicine Journey space online, in person, and/or outdoors. I love working with folks on the fringe and those with developmental trauma. Journeying is about healing and self-discoveries that ripple into your daily life. This rippling ignites living into new and/or very ancient paradigms of tending to your worth, one another, our work in the world, relationship to spirituality, and support for our planet. I carry a lens that incorporates nature, Spirit, play, trauma awareness and position within social contexts. Like a conduit, I tune in and attune to you as you engage Cannabis or Psilocybin as an ally. I will hold a compassionate, safe, and supportive container so you can move with hardships and unfold into your personal gifts and wisdoms. I am happy you are showing up for yourself and, in turn, your relationships — in their many forms! — Jai
"To cultivate a sense of the many senses needed to sense the many things versus to cultivate a way to parse the world into sensible objects…the ability to see and the graceful inability not to see…" Cody Rose Clevidence
WHO DO I SUPPORT?
I work with individual adults, couples, and small groups ages 21 and older. I love to be present with and for anyone who is sincere. I am particularly interested in supporting queer folks, energy aware people, and individuals with complex developmental trauma.
WHAT DO I OFFER?
Preparation, Journey Support, and Integration. Together we engage Cannabis or Psilocybin and your body's knowledge to give rise to parts of self and both developmental and intergenerational healing. I provide both Psychotic (lower dose and less time) and Psychedelic Journeys so lets discuss options. Lets honor your life growths, hardships, and transitions.
Outdoor and Indoor Experiences
Listen to the natural world's messages
Embrace your unique self as a needed part of the whole
Slow down, let go
See new perspectives
Experience less distraction and overwhelm
Listen to bird song, your breath, my woodwind, music
Know you are safe with a guide present
Harmonize your nervous system
Acknowledge gifts, visions, passions, transitions or difficulties
Hear yourself to know yourself
Understand experiences of your childhood development
Express your feelings
Release bodily stored trauma
Transmute difficult energy into power
Learn parts of yourself more intimately
Meet your version of Mystery/Source
"Nature has been for me, as long as I remember, a source of solace, inspiration, adventure, and delight; a home, a teacher, a companion." Lorraine Anderson
WHAT DO I DO?
I provide empathetic understanding, compassionate and explorative views, somatic or mindfulness oriented practices, a spiritually and physically supportive container, and plant, animal, and element relational invitations. I orient Medicine explorations with ideas related to Parts Work, Somatic Processing, Spiritual Emergence, Ego Dissolution, Nature, Source, Energy-work, and Mindfulness.
WHAT WILL YOU RECEIVE?
You will feel seen, heard, and held leaving you more able to show up for yourself, your work in the world, your gifts and expressions, and your relationships.
We begin with an Intake form and free consultation and then start Preparation sessions. On the day of your Medicine Journey I assist you in entering your unconscious, your energy body, and your physical body with Mindful, Imaginative, and Somatic practices. During your Medicine Journey I listen, reflect, provide physical comforts and needs. I encourage the senses, energies, and emotion-based processes you are engaging. I name practices to support grounding and provide snacks when we come to our Journey closing. Lastly, I provide Integration support for cultivating new understandings and embodied knowings.
Enjoy posts in link below for helpful information!
https://journeywithjai.com/posts/
For a Journey Support Consultation email jai@journeywithjai.com
WHAT IS THE COST?
$60 an hour for an individual. $100 an hour for two friends or a couple, and for groups lets discuss. Our time together includes 1 to 3 Preparation sessions, the Medicine Journey, and 1 to 3 Integration sessions. Preparation and Integration sessions are an hour each. A Cannabis Journey is 3 hours and a Psilocybin Journey is 6 hours or half those times if doing a Psycholitic session (lower dose) instead of Psychedelic one. Talk to me if the hourly cost I am naming is out of your reach as I do not want that to be a deterrent. Zelle online banking to jai@journeywithjai.com works well.
WHAT ARE SESSIONS LIKE?
Preparation support allows us to get to know each other, your hopes and needs, our setting, and the Medicine. In the Medicine Journey we dive into your unconscious, energy present, and your body's knowings in a supportive setting. Integration helps you digest your experiences and give you personalized opportunity to express and be heard so that you can practice embodying your insights. Prep and Integration times are online and each an hour long. Your plant Medicine Journey is done in a prepared room in your home or outdoors.
"Jai is a wonderful guide and spiritual support. In a handful of experiences with various medicines, I've been fortunate to be supported by their presence and suggestions. Jai provides a solid, secure, reassuring presence that helps one delve deeper into the experience, feeling held and safe to explore realms that might otherwise be inaccessible. Once, during my most difficult and unsettling journey, I felt Jai as a wise sage and instantly regulated despite the chaos of my inner world. They truly have a gift for spiritual guidance! Highly recommended." D.W.
WHAT RELATIVE LEARNING DO I HAVE?
My education and training includes a BA in Gender Studies and a BA in Psychology from the University of Utah, Yoga Teacher Training through Yoga Assets, Embodylab's Integrative Somatic Trauma Therapy Training, 1 year of Naropa University's Transpersonal Wilderness Therapy program, training through the Medicinal Mindfulness Psychedelic Sitter School, Wilderness First Responder through NOLS, Permaculture Design with Earth Activism, embodied psychoeducation guidance from my personal therapist, and coaching support from the Psychedelic Introvert.
Psychable Page — https://psychable.com/practitioners/psychedelic-earth-journeys-with-jai
ARE PLANT AND FUNGI MEDICINES LEGAL?
Cannabis and Psilocybin are legal for personal use in Denver, CO. When you engage my services I will keep you safe, and provide emotional, mental, physical, philosophical and spiritual support as you Journey with Medicines that continue to evolve in legal and regulatory realms.
Enjoy posts in link below for helpful information!
https://journeywithjai.com/posts/
WHY CANNABIS?
Cannabis flower blends and even single strains have psychedelic or visual potential for many individuals! But beyond that, cannabis is a wonderful ally for engaging one's body sensations as messages and messengers. Sometimes our bodies communicate needs around what we can process to find relief. Working with the body can assist in moving through stored emotional, energetic and physical pain. Tuning in to what surfaces in each present moment while with cannabis is key. Movement, such as flow-state dance, small yogic adjustments, and felt-sense impulses, or attuned stillness are invited by cannabis and quite supportive to releasing what no longer serves so as to open to new possibilities. Cannabis and I encourage embracing one's own expressions, experiences, and ways of being as unique offerings both in session and where possible in daily life.
WHY PSILOCYBIN?
I believe that many of our symptoms related to (C)PTSD, anxiety, depression and other diagnosis stem from trauma, oppression, stuck energy, or stressful experiences. Psilocybin opens us up to repressed perspectives, sensory engagement, play, historical experiences, and emotions from grief to joy. I love working with people who want to transmute hardships into learning and expansion by honoring and feeling into them — Psilocybin asks for that. I love engaging nature, this Medicine, and one's body and innate wisdom so you unfold and remember yourself, your parts of self, your perfection as is, your relation to Spirit, and what you have to offer.
WHAT ELSE DO YOU NEED TO KNOW?
Check out my posts and good resources in this link below and reach out!
https://journeywithjai.com/posts/
"Jai facilitates a safe, calm, healing environment for journey work. But beyond those initial and essential conditions, he also expresses and allows for deep connection within yourself for spiritual modes of being. His connection with spirits of nature embodied carry into your own, and his rhythms guide you on a journey meant for you. Jai provides the wisdom, experience, and heart to know how to best be there for you in any way you might need or desire. He has a deep wisdom for the medicines he engages with and for how they affect people. Jai's intuitive understanding of healing and journeying is truly remarkable; and anyone who is in the least bit intrigued by the potential of the experience of journeying could not ask for a better guide than Jai (particularly for queer and trans people)." R.C.T.
In Denver, CO personal use Cannabis and Psilocybin are legal. I am available to keep you safe and provide emotional, mental, physical, and spiritual or philosophical support.
If I am not the guide for you I respect that fully — here is a list of facilitator options in this link below.
https://www.tripsitters.org/directory
All photos and information by Jai Reese of Journey With Jai 2022 or credited.